So needless to say I didn't like the final result. The cowl turned out pretty cool but the big chunks were just too big and I didn't like it enough to keep it.
It was a cowl that I finished in four days. The Fibonacci sequence turned out cool in the beginning but it wound up being such big repeats that I got bored by the end of it.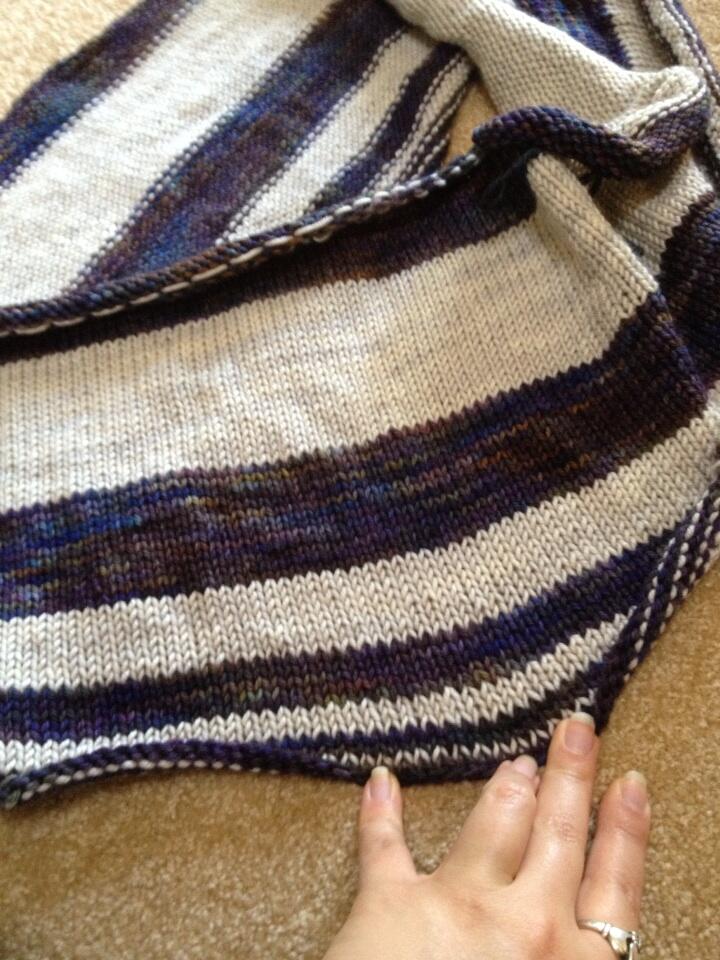 So I ripped.
I hooked up the cowl to the ball winder and swift and ripped it out in a matter of minutes. It's rather painful to do such a thing when you've put four days of work into a project only to rip it out in four minutes. But I knew the project would be better in the end for it.
So on Sunday I decided to start the knitalong over again with mittens. The Candombe color of the Malabrigo Rios just needed to be mittens with suede patches. I figured a pair of mittens in six days would be good, but I severely underestimated my ability to knit mittens, apparently.
6 hours later, I had a mitten finished. the next morning, the second mitten was done.
I sat there looking at the pair of mittens I had finished and swore to myself, wondering what else I was supposed to do for the next four and a half days. I figured I had more time so why not knit more mittens? I cast on the Plucky Knitter Wintry Mix and set on the second pair of mittens, figuring I'd get through as many pairs as possible until Saturday. Thus begins the Knitalong challenge.
AMMAP: As Many Mittens As Possible. 
Time Cap: 6 days. Sunday PM to Saturday PM. 
Size 5 needles. Worsted weight yarn. This is turning out to be a great stash-buster.
k2p2 ribbing, regular gusset thumb, rounded topper rather than my generic squared off fingers. Post WOD Cooldown will be weaving in all ends and sewing on the suede patches I plan on attaching and finally, to upload to Etsy. 
My plan with this, because I have no need for 85 pairs of mittens in my life, is to sell these mittens on Etsy, at work and on Facebook, for profit for myself as well as to donate 50% of the proceeds to DryHootch, a non-profit org for post-war veterans and family members. We donate change and such to them at Badger CrossFit whenever we use the water, so I figured, since I don't think I'll be sending the hats to Afghanistan like I did a couple years ago, that I'd sell them and donate the proceeds to a military-organization so I can help soldiers in some way or another.
Last night at DnD, I finished the first mitten of the second pair and cast on and made it to the thumb gusset increases on the second mitten before I got so tired I could barely keep my eyes open. Tonight, once I finally make it home from work, I'll finish the second pair and start on the third. Each of the pairs goes through about 2/3 of a 220 yard skein, so I'm hoping to create something with the remnants. We'll see.
They'll all be getting a good soaking before I sew on the patches and then I'll have them ready to go onto Etsy for purchase. I hope to be able to make a good amount of money from them as it's really dear to me.
All while I'm working on this project, Boyfriend is requesting fingerless mitts.
The season changed today. It was cold last night and this morning. I love fall.